---
Nuke Performance high flow inline fuel filters with integrated stainless steel brackets, available in 10 and 100-micron filter elements in both cellulose and stainless steel.
This lightweight, easy to install fuel filter is equipped with either a classic cellulose filter element for petrol or with the unique Nuke Performance welded fuel filter insert that is 100% proof for alcoholic fuels such as ethanol.
 Unique design with integrated stainless steel brackets
 Safe for all types of fuels, including ethanol and methanol
 Available with welded stainless steel filter elements
 Now with AN-10 ORB, for the highest possible flow
 Over 60 sq. inches of filtering area
 750 LPH, high flow with close to no flow loss
 Available with both 10 and 100-micron inserts
The Nuke Performance classic fuel filters are suitable for those with high demands for fuel flow and maximum filtration. The Nuke Performance high-quality fuel filters act like a affordable insurance that protects your engine and should never be overlooked, without proper filtration it does not take long before something goes very wrong in your setup.
 Choose the right filter elements to fit your needs and fuel, available with inserts for both petrol and alcoholic fuels
The high-flow fuel filters with integrated brackets are delivered with either a classic cellulose 10-micron fuel filter insert, these inserts are affordable and easy to replace for your petrol setup. When running alcoholic fuels, such as ethanol, methanol, and race fuels, you should choose one of our unique welded fuel filter elements that are available in 10-micron and 100-micron. These elements are now made of 100% stainless steel with unique welded end caps that exclude the common glue that can dissolve when changing from petrol to ethanol or when running aggressive fuels such as race fuel. When running the new upgraded fuel filters from Nuke Performance you do not have to worry about failing filter elements ever again.
 10-micron cellulose element for petrol / gasoline
 10-micron stainless steel element for all types of fuel
 100-micron stainless steel element for all types of fuel
The new improved design with AN-10 ORB ports grants high flow with close to no flow loss even when running high flowing high-pressure fuel pumps such as Deatschwerks DW400 and Ti Automotive GST450 / GST 520 (Walbro) fuel pumps. Also suitable for brushless fuel pump setups.
 When running alcoholic fuels, choose the right fuel filter version to fit your fuel filtration needs
When running ethanol, methanol, or other alcoholic fuels, you should always go with our stainless steel filter elements as these have a long life and trouble-free functionality. We strongly recommend cleaning the internal filter element once a season, and if you use the cellulose filter elements you should change this every month to prevent it to dissolve when being used.
Alcoholic fuels (ethanol / methanol) = stainless steel insert
Petrol / Gasoline = cellulose or stainless steel insert
Diesel = cellulose or stainless steel insert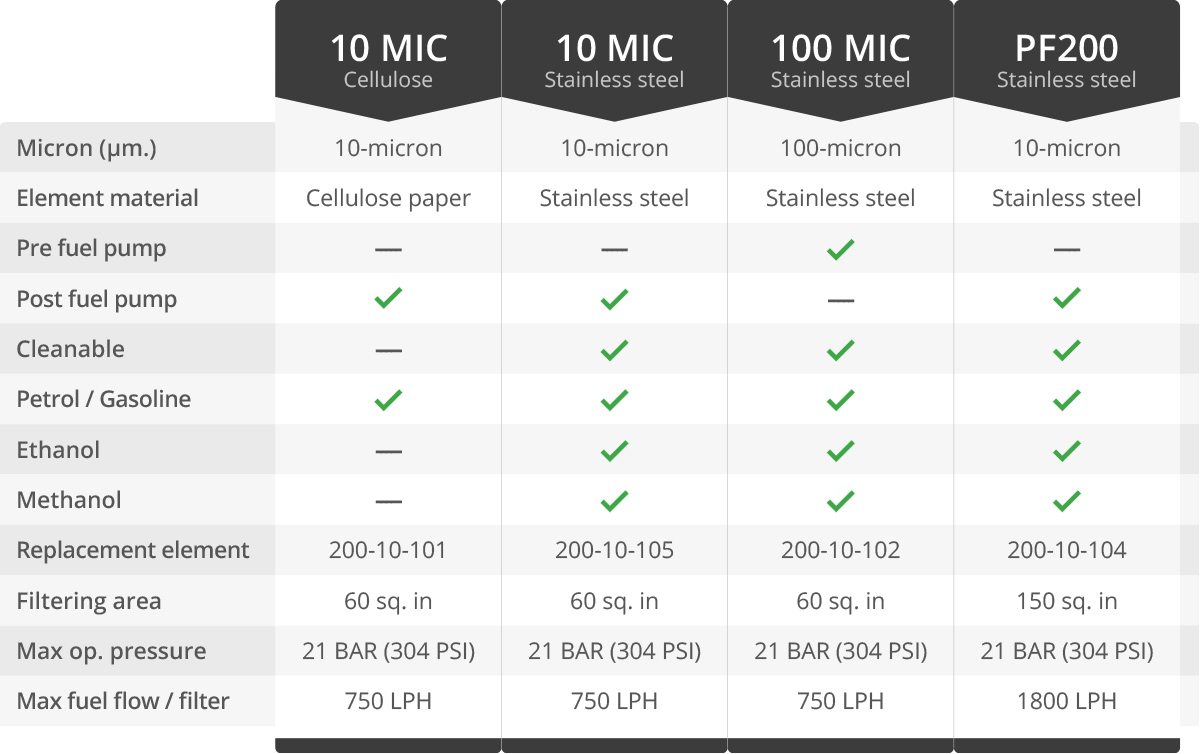 Nuke Performance also offers the same fuel filter inserts in a slim-series, lightweight universal filters for simple installations, same functionality in a nice and lightweight design that lets you mount it any way you want. And for those who need a fuel filter with higher flow capacity, greater filtration area, Nuke Performance offers the Nuke Performance PF200 10-micron high-performance fuel filter.
Nuke Performance Fuel Filter Slim-series : View assortment here
Nuke Performance PF200 10-micron fuel filter : 200-02-201 / 200-02-202
 Integrated stainless steel brackets for quick, safe, and stylish installations, for all types of applications
Nuke Performance Fuel Filter 10 / 100 micron AN-10 is delivered with integrated stainless steel brackets made for an easy and quick installation. Made for M6 bolts, this provides an extremely safe installation and gives you a trouble-free fuel filter setup at all times. The unique design of the Nuke Performance Fuel Filters together with the integrated brackets gives you a tidy and good-looking installation, no matter what type of vehicle it is installed to.
How to choose which fuel filter to install, and where should I mount the fuel filter in my fuel setup?
Choosing the right fuel filter for your setup is easy, and we have everything you need. If you run an internal fuel pump with an included pre-filter, we recommend a 10-micron fuel filter between the fuel filter and your fuel rail / injectors. When using an external fuel pump, you should use a 100-micron fuel filter in between the fuel tank and the fuel pump, and a 10-micron fuel filter in between the fuel pump and your fuel rail / injectors. The placement of your in-line fuel filters should be located so that in the event of an accident, the filter should be in a secure position to avoid damage that can result in unwanted leakage. Make sure to place the filter where it is easy to reach for service and change of filter element when needed.
---
Share this Product
---
More from this collection